Paris, France
On Rive Droit, at the Right side of the Seine, encompassing 3rd and 4th arrondissements lies one of the most historic areas of Paris that has been known as "The Marsh." The once swampy area was renovated in the 12th century and became the Jewish quarter, now also called the hub of Paris' gay population. Boasting multiple stylish stores lined in Medieval and pre-Revolutionary buildings, this part of Paris was my neighborhood the last time I visited the City of Lights.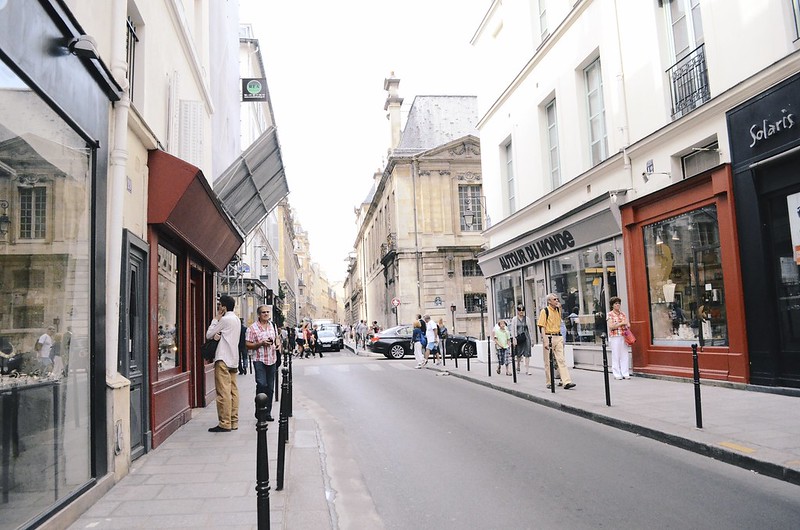 Hello everyone! Sorry for the radio silence these past couple of weeks. I have been busy working then traveling on weekends – first to San Diego at the end of January and to Vegas last week. Then, when I got back, my internet connection was dropped for 4 days – a problem with router and cable provider. I was solely relying on my iPhone to catch up with social media, go online, watch Netflix, etc. Here's a little secret: It was refreshing. My unplanned blogging break gave me more sleep time and do the things that I have been wanting to do but didn't have time to do… like review my French. Which leads me to the big news:
I am going back to Paris!
Yes! Finally, it's all coming together! I am leaving in about a month and staying for a month. Still have a lot of planning to do so here's my apologies if my presence will be staggered in the next few weeks. I have prepared some awesome posts, however not entirely sure how often I will be able to keep up. Definitely will try to update you as much as possible – here or at Instagram.
Any Paris tips for a returning traveler and a longer stay? Please do share.

[advanced_gmaps fullwidth="false" height="400″ latitude="48.859935″ longitude="2.360738″ address="" latitude_2="" longitude_2="undefined" address_2="" zoom="13″ pan_control="true" draggable="true" zoom_control="true" map_type_control="true" scale_control="true" img="" modify_coloring="true" hue="#B1A193″ saturation="-50″ lightness="10″ el_class=""] Follow Sky Envy: Bloglovin' / Facebook / Twitter / Instagram / Pinterest